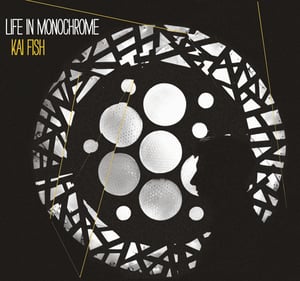 £

8.99 - On Sale
This is a PRE-ORDER of the CD album. The item will be shipped to arrive on, or slightly before, the release date of 26th September 2011.
Life in Monochrome is the debut album from in demand-songwriter and Mystery Jets Bassist, Kai Fish.
His first solo album is a highly personal album of gorgeous Kaleidoscopic pop, born out of a period of great change and turmoil in Kai's life, having within the space of 3 months gone through the breakup of a 6 year relationship, and into one which led to marriage and a relocation to Paris - a place he dreamed of living as a teenager.
Driven by an outpouring of inspiration, he set up shop in a small, intimate studio, with the help of friend and mentor Hervé, and was joined by a host of guest musicians and friends to help realize his vision, including Californian producer Dean Reid, Mystery Jets members William Rees and Kapil Trivedi, Lisa Wisznia of French group Elephant and singer Sophie-Rose Harper.
An ambitious and sonically inquisitive record, Fish reveals himself across 11 tracks as a pop maverick. From the blues-tinged country rock of Dig Your Own Well, Gorillaz-echoing acoustic melancholia turn anthemic retro rocker of Real Life, to the soulful, backyard lament and cathartic guitar assault of album centerpiece Cobalt Cheeks.
Life in Monchrome is out on the 26th September on both CD and Vinyl.